20 Oct
by Admin | in Blog | 0 comments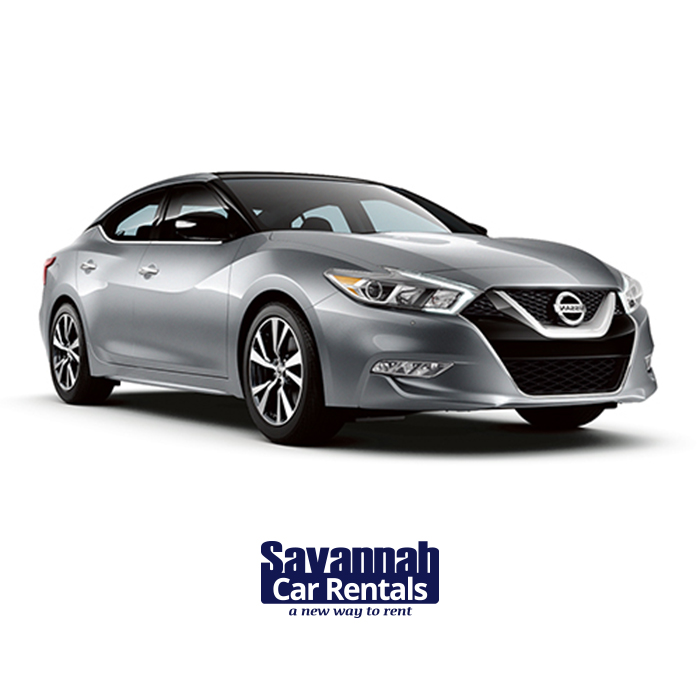 The 2017 Nissan Maxima has had an interior and exterior makeover in comparison to the 2016 model.  Nissan calls this newly transformed vehicle, "the four-door sports car." With the many new options, features and sleek body style, there are five different variations of the Maxima to match your specific needs. This bargain priced luxury car is Savannah Car Rentals hottest car for family trips, business travelers, or in town driving!
The Maxima S, Maxima SV, Maxima SL, Maxima SR, and Maxima Platinum are the five different variations of the Nissan Maxima to cater to your vehicle preferences.  The Maxima S is the standard body style starting price at $32,560, the Maxima SV starts at $34,540, the Maxima SL starts at $37,040, the Maxima SR starts at $37,820 and the Maxima Platinum starts at $39,990. The Maxima Platinum is the highest class Maxima. This specific vehicle has Nissanconnect which allows the driver to remotely start your vehicle, as well as make emergency phone calls through its newest system.
Apple CarPlay is a standard feature that comes in each of the 2017 Maxima models. Apple CarPlay is a replica display of your iPhone that will appear on your display screen inside your vehicle. The 8-inch color touch screen display has been resigned and is now better than ever. The display screen has a navigation system, voice recognition, satellite radio, Sirius XM Radio, Bluetooth and hands-free text messages. It also has two front USB connections for each of your compatible devices. The most impressive, newest feature on the is the ability to move your navigation system from your display screen to your dash display for easier viewing while driving.
This is a vehicle you will love to drive and will have you thinking twice about renting or owning anything different. Savannah Car Rental provides a lease-to-own program that can give you the opportunity to lease this luxury vehicle and one day call it your own. The application process is available online.