27 Aug
by Savannah Car Rentals | in Uncategorized | 0 comments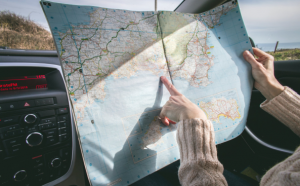 Source: https://www.pexels.com/photo/person-wearing-beige-sweater-holding-map-inside-vehicle-1252500/
Do you have a fall road trip planned? Or maybe you're planning an extravagant getaway for Winter Break. Whatever your upcoming travel plans are, we researched some of the top travel bloggers to see what gadgets they recommend you take on your next road trip.
We all know we've got to pack our cameras and our comfy travel clothes, but here is a list of trendy new things to bring to your next destination. We guarantee it'll make your travel level up, you'll be enjoying your time off in no time.
So without further adieu. Here's what travel bloggers had to say.
GoPro
Your cell camera is cool and all, but the GoPro is an affordable and versatile camera that can capture some really awesome wide-angle shots. Coupled with their cases, they're also extremely durable. You can take them mountain climbing, deep-sea diving, or just film an awesome time-lapse of your road trip. Whatever you're using it for, the GoPro is an awesome gadget to take along with you that requires very little space in your bags.
Weego 44.1 Jump Starter
This little gadget is great to have on hand all the time. It's a compact, rechargeable jump starter. So if you're unfortunate enough to have your battery die somewhere, you don't have to rely on another car to jump-start you. You can simply use this nifty little gadget and be on your way.
A Yeti Cooler or Similar
If you're traveling for long distances you'll definitely want a durable and efficient ice chest. This is basically like having your own personal fridge in your vehicle. Unless you're driving an RV, it's likely that you won't have access to a refrigerator, so having a cooler like this will ensure that any perishable items will be kept cold throughout your entire road trip.
Blankets!
Have you ever been in a scenario where you're freezing but the other passenger is hot? It's the worst. But being prepared with some blankets allows you to catch some comfy Z's while trekking on a long road trip. So bring your most comfy blanket (be cognizant of its size though).
Entertainment
You're going to need something to pass the time. So whether you're more into reading while sitting in the passenger seat, or listening to an endless amount of podcasts, be sure to bring enough entertainment for everyone in the car. That could include an iPad, books, podcasts, etc. But if you want to listen to music and podcasts, be sure to also bring a set of headphones. You can't always assume that everyone in the car wants to indulge in the same things you do.
First Aid Kit
The most important item in your car should be a first aid kit. Pack according to your trip. If it's a short trip into the city, then you don't have to go overboard with items. But if you're traveling to a remote destination with limited access to modern amenities, then be sure to pack essentials like medicine, bandages, scissors, and other necessary first aid items.
Conclusion
If you're heading out on a road trip, make sure to pack some or all of these items so you'll have the time of your life! If you're in need of a rental car for your next road trip, check out our selection and book with us today!