Valentine's Day is coming up and here are a few ideas of things you can do in Georgia for
Valentine's Day with your loved one.
This article will discuss several Valentine's Day options for couples looking to get away or stay
close to home. Valentine's Day is on February 14th, but it doesn't have to be a holiday only for
romantic partners. If you are having issues deciding where to go for Valentine's Day in Georgia,
look no further!
This day can be a great excuse to get away from Valentine's day stress and Valentine's day
pressures of Valentine's day gifts, instead, go for a road trip, visit new places or get to try out
new experiences.
Invite a friend or loved one to share the experience with you, here are some ideas of things to
do in Georgia, that you may be interested in trying out:
The Valentine Creeper Bus is Valentine's trip from Athens to North Georgia. This
Valentine's Day tour includes a day on the town in LaFayette, where couples can spend
Valentine's Day exploring local shops and tasting new foods together.
Valentine's weekend offers lots of new and old Valentine's traditions. One Valentine's
Day tradition is Valentine sleigh-rides, which are offered in north Georgia by Chastain
Horse and Carriage.
Valentine's day can also be spent trying something new; for example, some people visit
local wineries to sample some of the finest wines. The Valentine's Day Wine-tasting
Valentine's weekend trip is a great way to enjoy Valentine's day with your special
someone.
These Valentine's Day ideas are only the tip of the iceberg for great Valentine's Day trips
and activities in Georgia.
Valentine's day places to visit and events taking place around the state. Here is a shortlist:
Atlanta Valentine's Singles Event at Cabaret Royale, Friday, February 13th from 7:30 p.m to
10:00 p.m.
Valentine's Day at the High Museum, Saturday, February 14th from 3:00 p.m to 5:00 p.m.
Valentine's Day on Ice at Atlantic Station, Saturday, February 14th from 1:00 p.m.
Valentine's Day Comedy Show at Atlanta Improv, Saturday, February 14th from 7:00 pm to
10:00 p.m.
Valentine's Day Miracle Movie Event, Sunday, February 15th from 1:30 p.m.
Valentine's Dinner Cruise on the Spirit of Atlanta, Thursday, February 12th from 5:30 p.m.
Those who enjoy seeking out special and unique gifts will love Savannah, Georgia. In this historic city, replete with architecture and cultural trademarks of the Old South, shoppers will also find a cosmopolitan atmosphere as well as niche retailers with myriad offerings. High-end and luxury goods are available alongside hand-crafted jewelry, artwork and furniture. In fact, gift items are sold to people of every economic strata. Not only is the gift inventory abundant for Christmas, Hanukkah and New Year consumers, the shopping experience itself is a genuine pleasure. Here are four locations at which to enjoy the holiday buying adventure.
1. River Street Marketplace
This is an imposing open-air shopping establishment where gifts and merchandise from the world over await perusal and purchase by holiday customers. In essence, this outdoor mall replicates the retail ambiance of Savannah in the mid-19th century. Not only is the River Street Marketplace the favored destination among Savannah regulars, but it's well-known for dining and nightlife as well. Its many vendors sell artwork, candles, rings, t-shirts, wines, wardrobe accessories, beef jerky, tattoos and a host of imported goods. Shoppers can enjoy fresh crabs, Italian gelato and giant hot dogs to fortify their search for holiday gifts.
2. Abercorn Walk
A downtown mall consisting of many nationally known stores, Abercorn Walk has the advantage of housing retailers near to out-of-town friends and family. Should they have an issue with a gift, they can exchange at a location close to them. Chico's, Talbot's and Ethan Allen are just a few of the fourteen businesses at Abercorn Walk, each with sales and discounts authorized by their national chains. Additionally, a StretchLab and CycleBar are on site for fitness devotees to get in a workout while browsing and buying. Most stores here are considered upscale.
3. Oglethorpe Mall
In Savannah, "going to the mall" means the Oglethorpe Mall. With the largest number of stores in the city under its roof, the Oglethorpe Mall is home to 138 businesses eager to service holiday purchasers. From American Eagle Outfitters to the AT&T Store to Designer Shoe Warehouse to LensCrafters to Spencer's Gifts, this mall covers the broadest range of consumer goods. In addition, it is home to a large and diverse food court as well as Realtors, piercing studios and photography services. Regardless of what you look for, chances are that something you want is at the Oglethorpe Mall.
4. Habersham Antiques Market
For the searchers for rare and distinct tokens to give their loved ones during the holiday season, the Habersham Antiques Market is without comparison. Situated in the Thomas Square Streetcar neighborhood, this market features the wares of over 70 antique dealers. Paintings and sculpture, books and manuscripts, historic clothing and accessories, period furniture and Oriental Carpets are usually for sale with more coming in every day. This is where buyers find those gifts that few others will have but that special recipient will want and treasure always.
While Southerners may take issue with Plymouth, Massachusetts as the site of the first Thanksgiving, they nevertheless take this holiday of gratitude with both seriousness and a sense of fun. Nowhere is this more evident than in Savannah, Georgia. This exciting city near the South Georgia coast offers all the expected vacation distractions, history, entertainment, recreation, and luxury accommodations. It is also the home to numerous dining establishments where Thanksgiving holiday revelers can enjoy traditional and updated meals with family and friends. Several of them make a point of pulling out all the stops for this uniquely American holiday.
John Ryan's Bistro
All-you-can-eat buffet diners will relish the offerings at John Ryan's Bistro, a purveyor of classic American cuisine. Located inside the DoubleTree Hotel, serves up a uniquely southern Thanksgiving menu, which includes roasted turkey, ham glazed in Coca-Cola (produced in Georgia), and cherries along with buttermilk fried chicken, cornbread giblet stuffing, black-eyed peas, pumpkin bisque, and sweet potato souffle. Quite a hefty feast!. Another popular buffet option is the Savannah Riverboat Cruises. Traveling up and down the Savannah River, passengers can feast on a traditional Thanksgiving buffet with southern characteristics. Cruises depart at 12:30 pm and 5:00 pm on Thanksgiving Day.
Savannah's English Tavern
Believe it or not, one of the finest meals on this authentically American holiday can be consumed at Savannah's English tavern, The Sixpence Pub. Turkey with all the trimmings, along with all of the Pub's regular menu items, are available on this special day. The Olde Pink House, dating back to 1771, also serves up traditional Thanksgiving edibles when the great day arrives. The delicious three-course brunch can be enjoyed by the imposing yet homey fireplace. This establishment is beloved by tourists and residents alike. It is not alone, however, as a Thanksgiving dinner destination.
Garibaldi
Known and celebrated for its various seafood dishes, Garibaldi is another favorite for traditional Thanksgiving feeding. Its annual Turkey Plate includes white and dark meat with dressing, as well as ham, mashed potatoes, sweet potatoes, cranberry sauce, and collard greens. A special fish entree, selected just for the occasion, will also be available for Thanksgiving dinners. Nevertheless, Garibaldi is by no means suspending its regular menu that is so coveted by Savannah denizens. Crispy flounder, lobster tails, grilled New York strip, and Chicken Milanese is still served to Thanksgiving patrons who prefer a favorite dish.
Mrs. Wilkes Dining Room
Those visiting Savannah may prefer the intimacy of a few close loved ones, eschewing the restaurant ambiance, no matter how elegant. They are in luck. Mrs. Wilkes Dining Room, long a bastion of family-style eating, has transformed itself into a high-quality takeout establishment. Its strength is southern home cooking and it will not disappoint on Thanksgiving. Begun as a boardinghouse in 1943, this eatery now presents its entire menu as a take-out option. Tripadvisor has dubbed the Turkey Day fare at Mrs. Wilkes as "Thanksgiving on Steroids." Enjoy it in the comfort of home.
Even before COVID-19, spending vacation days at or close to home, staycations, as they are known, were not uncommon options for families in the Savannah, Georgia area. These options have the benefits of saving money, travel time, and a good deal of stress associated with traditional faraway respites from work and school. The key to a successful staycation is planning, IE. selecting day-trip destinations and other nearby activities in advance of the time-off itself. Fortunately, Savannah has no lack of places to go and things to see. Some of the most popular and celebrated places to visit are as follows.
Historic Significance
The Savannah area is replete with reminders of past events and culture. For example, visitors can step back a century into the Jazz Age at the American Prohibition Museum, where a re-created speakeasy invites them for a drink. Deeper into history, the King-Tisdell Cottage, and the Ralph Mark Gilbert Civil Rights Museum. Meanwhile, the Savannah History Museum provides an array of artifacts that trace the development of the city from its earliest days. Families can learn much about their country by exploring Savannah.
Fun and Fresh Air
Hikers and bikers will appreciate the abundance of trails and terrains at public lands like Skidaway Island State Park and the Bonaventure Salt Flats. Surfers, sailors, and beach denizens, on the other hand, have the advantage of Savannah's coastal location, especially the proximity to Tybee Island. The Savannah and Ogeechee Rivers offer riverboat tours as well as kayaking and canoeing. In addition, Savannah offers some of the best golf courses in the United States. Of course, lovers of natural beauty can take in the flora at Forsyth Park, the Coastal Georgia Botanical Gardens as well as the Savannah Botanical Gardens.
Food and Beverage
Even veteran "Savannians" are amazed at the number of eateries, pubs, and coffeehouses that this city has to offer. One way to spend a staycation is to visit those establishments you have yet to sample. Seafood lovers, for instance, will find diverse and delicious offerings on the menus at Vic's on the River and Pearl's Saltwater Grille. Jazz'd is here to offer the best in nuveau cuisine while Mrs. Wilkes Dining Room has all your favorite Southern comfort foods. Savannah is also home to some elite craft beer breweries.
Bed and Breakfast
A staycation does not necessarily mean you are still doing the dishes and making the beds. In fact, availing yourself of Savannah's bed and breakfast establishments relieve you of housework without traveling too far. Most of these accommodations are in historic houses that have been renovated for maximum comfort and convenience for guests. Among them are Kehoe House in the Landmark District, Galloway House Inn in the Victorian District, and the DeSoto Beach Bed and Breakfast on Tybee Island. Each and all offer refreshing escapes from the grind.
When we hear the words "road trip," we usually think of a trek lasting at least several hours as opposed to a run to the grocery store. Whether the destination is a favored vacation spot, a relative's house, a client's office, or a business conference, getting in the car for a long haul requires some pre-travel wisdom. Are you traveling solo or with someone? Will there be kids in the car? How many stops do you plan to make along the way? Questions like these help to determine what essentials to bring along — and what incidental items are better left at home.
Things for the Car
These necessities may appear obvious but a surprising number of people get caught without them:
Driver's License — yes, many drivers are pulled over by law enforcement and can not produce a license because it was left at home. Whether in a wallet, purse, or another holder, keep it with you at all times.
Insurance and Registration — not only must the driver be legal, so too must the vehicle. Updated registrations and auto insurance certificates should only be as far as the glove compartment.
Operator's Manual — sometimes, owners bring the car manually into the house to study it or keep it with other appliance user guides. Better to keep it in the car when an unfamiliar light goes on or a strange sound is emitted from under the hood.
Spare Key — you never know when your keys can get misplaced, stolen, or otherwise lost, even damaged. Having a spare in an obscure but accessible compartment can save the day.
Roadside Assistance Contact Info — you can have this through AAA or an insurance company. Remember, breakdowns and blowouts occur when least expected.
Spare Tire and Jack — sometimes it's quicker and easier to do it yourself, or have someone help you. Make sure you have what you need.
Flashlight — good for night-time mishaps and foul weather trouble. Get one that is water-resistant.
Things for the Passengers
Phone Charger — either in the car or portable.
Bag or box for garbage — if you have a pulse, there will be garbage.
Toilet Paper — some rest stops are not well-stocked.
Cash — coins and paper money for parking, air pumps, laundry etc.
Hand sanitizer
First-Aid Kit
Umbrella
Things to Leave at Home
Jewelry — i.e. expensive jewelry. Unless you are going to the White House for a state dinner, valuable accessories are simply vulnerable to theft.
Complicated Meals/Snacks — anything that requires a lot of prepping and utensils.
Soda or Carbonated Drinks — the drive will shake up the cans/bottles.
Giant Suitcases — they consume too much space. Use bags and baskets, if necessary.
Illegal Substances — never think you can't get pulled over.
Photo by Craig Adderley from Pexels
Ah, September! The month of new beginnings. After Labor Day, we start to see all the things of summer disappear until next year, and our lives are filled with pumpkin spice and fall foliage. And one beautiful fall favorite activity is to check out fall foliage around the country.
Whether you're in the majestic antique cities of New England or cruising through the midwest, or in our own backyard in Georgia, fall foliage is beautiful. And here we've mapped out the best places to leaf peep this year.
October and November are right around the corner and offer some of the best times for the turning leaves. Plan your autumn road trip today with Savannah Car Rentals and check out one of these seven destinations.
Ozark National Forest, Arkansas
The Ozarks aren't just known for the hit Netflix show. No, for centuries, their natural landscape has bloomed and turned with the seasons. It's not too far away from Georgia, you can plan a nice road trip to Arkansas this fall and peep the changing leaves.
Huntington, New York
Heading on up to the northeast, New York offers some of the most beautiful fall landscapes in the nation. Huntington, NY is no different. The tall maple and dogwood trees turn to a vibrant shade of orange and red and are a magical sight to see every autumn.
Eastern Shore, Maryland
South from New York in Maryland lies Eastern Shore. The natural beauty of the area will make you fall in love. Surrounded by the Chesapeake Bay, it's a great destination for leaf peepin' tourists. Grab some delicious seafood and head up to Maryland to see these mesmerizing sites.
Lenox, Massachusetts
Few places in the world offer as much beauty as Lenox, MA. This colonial town is a sight to see any time of year, but the autumn season is particularly beautiful. It's a must-see if you've never seen fall leaves before.
Taos, New Mexico
Many people think that New Mexico is a dry arid desert. This is only true for some of the state that borders West Texas. While it still has some desert climate, it does see seasonal changes among its rolling hilltops and mountains that are truly a sight to see for anyone traveling to the region.
Amicalola Falls State Park, Georgia
Right in our home state of Georgia is the legendary Amicalola Falls State Park. Along with these majestic waterfalls, the state parks transform into hues of orange, yellow, and red during the fall months. If you're looking for a quick weekend trip, this is one of our favorite destinations. (We may be biased).
Cape May, New Jersey
If you're looking for a coastal town that also has beautiful fall foliage, then Cap May is the spot for you! This antique town is a hot spot along the Jersey Shore — but no, you aren't likely to see fist-pumping and tanning. Instead, you'll find quaint shops and restaurants and locals thrilled to see the summer season winding down.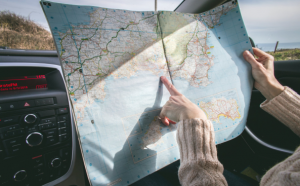 Source: https://www.pexels.com/photo/person-wearing-beige-sweater-holding-map-inside-vehicle-1252500/
Do you have a fall road trip planned? Or maybe you're planning an extravagant getaway for Winter Break. Whatever your upcoming travel plans are, we researched some of the top travel bloggers to see what gadgets they recommend you take on your next road trip.
We all know we've got to pack our cameras and our comfy travel clothes, but here is a list of trendy new things to bring to your next destination. We guarantee it'll make your travel level up, you'll be enjoying your time off in no time.
So without further adieu. Here's what travel bloggers had to say.
GoPro
Your cell camera is cool and all, but the GoPro is an affordable and versatile camera that can capture some really awesome wide-angle shots. Coupled with their cases, they're also extremely durable. You can take them mountain climbing, deep-sea diving, or just film an awesome time-lapse of your road trip. Whatever you're using it for, the GoPro is an awesome gadget to take along with you that requires very little space in your bags.
Weego 44.1 Jump Starter
This little gadget is great to have on hand all the time. It's a compact, rechargeable jump starter. So if you're unfortunate enough to have your battery die somewhere, you don't have to rely on another car to jump-start you. You can simply use this nifty little gadget and be on your way.
A Yeti Cooler or Similar
If you're traveling for long distances you'll definitely want a durable and efficient ice chest. This is basically like having your own personal fridge in your vehicle. Unless you're driving an RV, it's likely that you won't have access to a refrigerator, so having a cooler like this will ensure that any perishable items will be kept cold throughout your entire road trip.
Blankets!
Have you ever been in a scenario where you're freezing but the other passenger is hot? It's the worst. But being prepared with some blankets allows you to catch some comfy Z's while trekking on a long road trip. So bring your most comfy blanket (be cognizant of its size though).
Entertainment
You're going to need something to pass the time. So whether you're more into reading while sitting in the passenger seat, or listening to an endless amount of podcasts, be sure to bring enough entertainment for everyone in the car. That could include an iPad, books, podcasts, etc. But if you want to listen to music and podcasts, be sure to also bring a set of headphones. You can't always assume that everyone in the car wants to indulge in the same things you do.
First Aid Kit
The most important item in your car should be a first aid kit. Pack according to your trip. If it's a short trip into the city, then you don't have to go overboard with items. But if you're traveling to a remote destination with limited access to modern amenities, then be sure to pack essentials like medicine, bandages, scissors, and other necessary first aid items.
Conclusion
If you're heading out on a road trip, make sure to pack some or all of these items so you'll have the time of your life! If you're in need of a rental car for your next road trip, check out our selection and book with us today!
The start of the school year is right around the corner. Stores are replacing their beach towels and bathing suits with pencils and notebooks. We'll slowly begin the transition of summer camps, pool parties, and midday park trips to homework, soccer practice, and dance recitals. But just because the school year is on its way in, doesn't mean you have to forgo the rest of the summer! There's still time to plan some fun vacations and day trips around our beautiful state.
From the wooded adventures in West Georgia to the sunny coastal lakes and family fun to the East, our state has a wide variety of fun no matter what you're thinking of doing this summer! If you're more of an adventurous family, plan a hiking trip! If you're more of the mellow family, then plan a staycation and pack a picnic at your nearest park. Whatever you plan to do this summer, we're sure it'll be a blast!
But if your well of ideas is running dry, here are some family-friendly trips to plan before the start of the school year.
1. Plan a hike
No matter where you live in Georgia there are beautiful hiking trips to take. If you're near Savannah try going on a hike through McQueens Trail or Skidaway Island State Park! There are countless outdoor and scenic trails you can take the family on this summer. Check out Visit Savannah for a full list of hikes to take with friends and family.
2. Pack a picnic at your nearest park
Is there a park nearby that you've always wanted to take the family to but haven't gotten around to it? Well here's your invitation to plan that picnic! Pack an ice chest and bring the juice boxes and sandwiches. Invite others to join in on the fun and celebrate the last weeks of summer with those you love most.
3. Take the kiddos to a plant nursery
If you're stumped on things to do with the kids as the summer winds down, take them to your nearest plant nursery and let them take home a plant! It'll be a lesson in taking care of a living thing as well as a refreshing change of pace for you and the kids. Show them around the nursery, explain what native plants are and what are exotic plants. It can be a mini-science field trip to prepare them for the upcoming school year.
4. Plan a trip to your local library
If the weather isn't agreeing with you, or if you want to prepare the kids for the year ahead, take them to the library and let them check out some books! Many local libraries have weekly and monthly events during the summer for children, check your local library's event calendar to see what they have upcoming and plan a day with your kids!
5. Go to a zoo or animal sanctuary
Take a road trip to a zoo or animal sanctuary! One of Georgia's favorites is Noah's Ark Animal Sanctuary in Locust Grove. Get a group together for an educational tour of their facility. Or just pop on over and take a self-guided tour of the sanctuary.
Do you have a road trip coming up that you need to plan for? An overlooked piece of the perfect road trip is your playlist. Sometimes the radio just doesn't cut it. And sometimes, if you're traveling through some barren parts of the country, you may not have any service. (So always remember to download your favorite songs, too!)
We know music is subjective. We're not here to tell you that these are the perfect road trip songs, but we do think they come pretty close and have all stood the test of time.
While this list is in no way exhaustive, and definitely won't last for a cross country trek, we do recommend you peppering these songs with some of your personal favorites for the best road trip playlist out there.
Without further adieu, here are twenty must-play songs to create the perfect road trip playlist.
1.  On The Road Again – Willie Nelson
Nelson's classic will have you and your traveling companions excited for the trip ahead.

2. I've Been Everywhere – Johnny Cash
Play Johnny Cash's "I've Been Everywhere," and see how many places you've been in comparison!
3. Road to Nowhere – Talking Heads
If you're feeling more mellow, tune in to Talking Heads. They'll be sure to keep the energy calming.
4. Everyday Is A Winding Road – Sheryl Crow
If the weather's right, roll down the windows and let the wind fly through your hair with Sheryl Crow's famous ballad.

5. The Long and Winding Road – The Beatles
For the more somber, reflective portion of your trip, play The Beatles "Long and Winding Road," maybe when you're close to your destination?

6. I'm Gonna Be (500 Miles) – The Proclaimers
We don't know anything more romantic than this Proclaimer's song!
7. Baby, You Can Drive My Car – The Beatles
Belt out with Paul McCartney to this Beatles' classic.

8. Born to Run – Bruce Springsteen
If you need a little pick-me-up, this one is sure to re-energize!

9. Little Red Corvette – Prince
No matter where you're going, Prince is a must-play.

10. Where the Streets Have No Name – U2
Add to your adventurous side with this U2 hit.

11. Keep The Car Running – Arcade Fire
One of the newer songs on the list will keep the young ones entertained.

12. Sweet Home Alabama – Lynyrd Skynyrd
We're not really sure why we added this, but it is really fun to sing along to.

13. Truckin' – The Grateful Dead
One Grateful Dead album could probably get you through a couple of states.

14. Take It Easy – The Eagles
If Winslow, Arizona is in your road trip plan this is probably the perfect song.

15. America – Simon and Garfunkel
Another slow and steady song to bring out all the chill vibes.

16. Route 66 – Chuck Berry
An American classic, Chuck Berry's energizing Route 66 gives us all the nostalgia.
17. Ramblin' Man – The Allman Brothers Band
Lord, he was born a ramblin' man! Another great song that everyone knows.

18. Runnin' Down A Dream – Tom Petty
Tom Petty keeps breakin' hearts with this great road trip hit.

19. Born To Be Wild – Steppenwolf
This is just a given, right?

20. Don't Stop Believin' – Journey
And finally, to get everyone on board and belting out at the top of their lungs, this must-play by Journey is perfect to turn on when you know you're getting close to your final destination.
So there you have it. Twenty songs are quintessential for a long road trip. We know some of these are a bit older, but they are classics! Take your favorite songs and add these among them to put together the ultimate road trip playlist!
We guarantee that adding these twenty songs to your playlist will add flavor and fun to an otherwise boring trip. They're popular enough that most everyone in the car will know them. So roll down the windows, turn up the volume, and drive your heart out!
Happy road-trippin'!
So you've got a vacation planned and you're traveling with the kiddos. We know you love those little pride and joys, but they do take a lot of brain work in figuring out how vacation is going to work with car seats and snacks and all the things that come with traveling with a kid.
Gone are the days of impulsive travel. Now, you've got to plan and account for any road bumps that may arise on your trip. But if you're prepared, you can have just as much fun with your kids! Maybe even more! Their smiling faces and excitement during vacation will be remembered for years to come.
But when you're picking out a car rental when you have kids, it's hard to know which is best. Should you stick with the economical choice? Or should you rent a larger SUV or van to fit everything in. Here we break down the pros and cons of each type of car rental option when traveling with kids.
The economic choice.
Economical is known for its affordability, which is great! But sometimes this doesn't leave much room for luggage and car seats. If you're traveling with just one baby or child, then this may be a good option for you to save on travel costs.
But anyone who's traveled with a child knows that space fills up quickly. Tiny humans have a lot of stuff, especially on vacation. So if you're thinking of this route, think of the things you'll need to bring and make sure the economic choice has enough room to accommodate your needs.
The standard choice.
A standard-size sedan or SUV may be a great fit if you're traveling with up to two kids. These cars offer much more space for luggage and car seats and allow for more comfortability for you as parents as well.
The downside could be its price. But if you book with Savannah Car Rentals, we'll work with you to get a great deal on a standard SUV. Also, all of our cars are late-stage models and come with low mileage. So the standard option is a great choice when traveling with children.

The luxurious choice.
Everyone loves some luxury in their life! Buy luxury is expensive. Sometimes, this may be your only option if you're traveling with 4 or more kids. You'll need to invest in a bigger car to transport them, especially if you still have kiddos in car seats.
Vans and large SUVs are a bit pricier, but they don't have to be unattainable. When you rent with us, you'll always have low mileage and late-stage vehicles. We also offer 15% off for veterans and active-duty military members, as well as 10% off for students, with a valid student ID.
Whether you're traveling with a kid or not, Savannah Car Rentals has an option for you! With three convenient locations in Statesboro, Hinesville, and Savannah, we offer factory-fresh, late-stage model cars with low mileage. Check out our selection today.